Morgentågen og Mariehønen ..
Udgivet den 5. oktober 2015 af Anette Højbjerg
Det er søndag morgen.
Mobilen fortæller mig tidligt, at der er "Varsel for tæt tåge" .. jeg beslutter mig for at hoppe ud af den varme dyne og lure lidt på vejret gennem de store ruder.
Tågen kryber rundt udenfor og efterlader et landskab, der ligner noget fra de højeste tinder i Tibet. Men jeg er ikke i Tibet - jeg står og kigger ud af vinduerne fra vores bondegård på Lolland.
Jeg hopper i tøjet og begiver mig ud i tågen - iført jeans, uldtrøje, gummistøvler, kamera og selvfølgelig min macrolinse. At begive sig rundt i den tågefyldte natur, bringer altid oplevelser med sig. Det er aldrig helt til at vide, hvornår tågen letter, hvor meget solens stråler bryder igennem, hvor flotte fotos man får taget eller hvor vådt græsset er, når man beslutter sig for at lægge sig fladt ned på maven. Netop for at tage det "perfekte skud" ..
Jeg "snuser" lidt rundt i haven. Den dugvåde græsplæne er fuld af små spindelvæv og i træerne omkring mig, hænger der enkelte tråde af væv med tunge dugdråber. Der er små og store spindelvæv. Der er stille. Naturen er ikke helt vågnet endnu og jeg er selv ved at vågne stille, mens jeg prøver at liste igennem tågen i mine knap så stille gummistøvler .. de er IKKE skabt til at liste i

..
Jeg finder hurtigt ud af, at tågen er for tæt til, at jeg kan tage landskabsfotos ... så jeg lurer lidt videre og opdager til min store overraskelse, at der sidder en fin og lille mariehøne på en plante i tågen ..
Den lille mariehøne er fyldt med små dugdråber .. den bevæger sig en lille smule, som om den også er ved at vågne .. mens solens stråler prøver at gennemlyse tågen ..
Frem med macrolinsen og så er det ellers i gang med at tage fotos af den lille "høne" ..
Efter mange minutter i forskellige halv-umulige-og-vældigt-kejtede-fotograferings-stillinger, lusker jeg glad hjemad med mit kamera i tasken igen. Tasken er dugvåd og mine ellers så nyvaskede jeans - må endnu en gang i vaskeren .. men jeg fik flere gode skud i kassen .. tak lille Marie Marolle .. du gjorde det godt .. jeg håber, at vi ses igen til foråret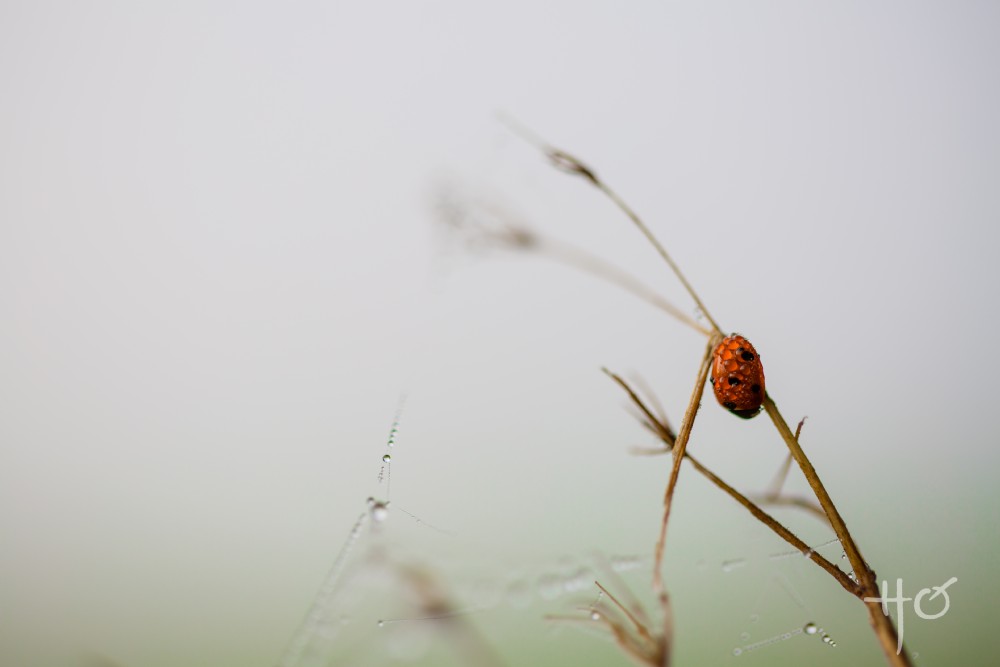 Annatopdogsthype skrev den 13. november 2016 kl.22:34 følgende kommentar:
Если думаете купить щенка, купить собаку и в поиске вбиваете щенок цена, порода собака, то ваш выбор хаски! Купить хаски, купить маламута, хаски цена, ценах хаски, цена маламута, купить хаски и маламута ! Очень крутое видео на самом крутом видео канале о собаках, на котором видео о хаски, дрессировка хаски, обучение хаски, хаски шоу, хаски поёт и хаски разговаривает, хаски и маламут, сибирский хаски, аляскинский маламут, хаски порода и как купить щенка хаски, хаски цена и всё о хаски, на этом видео хаски рожает очень милых щенков хаски http://youtu.be/-0aNcom2gfA смотреть хаски бесплатно ! видео хаски для всех люителей собак, самые крутые ездовые собаки сибирский хаски, хаске хаски. Husky puppies free video husky in this video with Huskies https://youtu.be/-0aNcom2gfA and on the other video of this channel about dogs you will see these videos, how husky show , Siberian Husky and Alaskan Malamute , Husky sings and Husky talking , Husky training , Husky puppies, the best breed of husky dogs , training teams Huskies , funny and cute video jokes Huskies.
Bethanydilia skrev den 14. november 2016 kl.09:08 følgende kommentar:
I want to impart my little happiness with you... I finally managed to get rid of varicose veins myself in 1 week!!! So, I tried all home remedies, including birch buds and all that crap, plus medicines that improve blood flow, control tights and so on and so forth. ALL THAT IS BULLSHIT. None of this helps. It is useless.
Paid visit to doctors. They didn't help me but gave a scolding that I dragged out the treatment. So I took a week off at my own expense. I felt depressed, was thinking how to get rid of varicose veins and make my legs beautiful and healthy again, so I surfed on Internet for different treatment methods. Lo and behold, I surfed the blogs and a note by phlebologist from London in one medical forum caught my eye. The note said that in England the treatment of varicose veins is not effective as conventional medicine cure not the reason of the disease, but its symptoms.
Alongside with that he mentioned a new cream for varicose veins 'Varicobooster', which has lots of positive results I had been trying to find out where I can buy this cream and found this shop. Firstly I didn't believe all that, as there was loads of ads on TV...but lots of good reviews made me order it. I received the parcel the week later. Unpacked it, read the instruction and started using.
I used this cream in accordance with the manual. And you know what? On the 5th day еру edema went down and the veins began to disappear. My jaw dropped open! I got rid of varicose veins! Within 5 days! Do you believe it? I distrusted my own eyes...Legs became clear from varicose nets, they became beautiful and don't hurt no more. I'm not mistaken and I'm not out of my mind. I'm overwhelmed with joy! I've never been so happy for last 20 years :)
Now I feel healthy. Hah! I'm even thankful to the illness – varicose veins learnt me not to take things for granted and made me see the ills of life from different angle. I'm trying not to think about what could have become of me if I hadn't found Varicobooster. Now there is no room for gloomy and cheerless thoughts, only positive ones!
I'm endlessly happy that everything turned out this way. Alongside the getting rid of varicose veins, it dawned on me that the simpliest ways out seem ineffective to us. And more complicated, like operations, on the contrary, effective. But it is not like that. Varicose veins can be cured by a simpler, quicker and more safe method. It is verified!
For those interested – here is the official website where I ordered it. That is the only certified company in EU, that sell "Varicobooster". As for the delivery, the parcel is sent by mail and the payment is "cash on delivery" So it is safe.
The"Varicobooster" is sold at a cut-price, so be in time to order it!